I've been kicking around a posting like this for a while, since everybody always talks about or asks me who my favorite drummers are. My reservations with a list like this, is I can't possibly list everyone because that would take me forever and some I don't even know their names, just old recordings they are on, especially with Latin and Brazilian music.
So what I am going to do is list the ones that have had a big influence on my playing, past and present. This is not in any type of order whatsoever and it is not a rating scale. All of these drummers are fantasic and I am not stating that anyone of them is better or more important than the others. So here it goes.
Max Roach
- Max Roach is pretty much on everybody's list since he is one of the major innovators of Jazz and played with pretty much every legendary Jazz performer in history. When I first started learning Jazz I studied Max heavily. He has an incredible swing and amazing separation between limbs.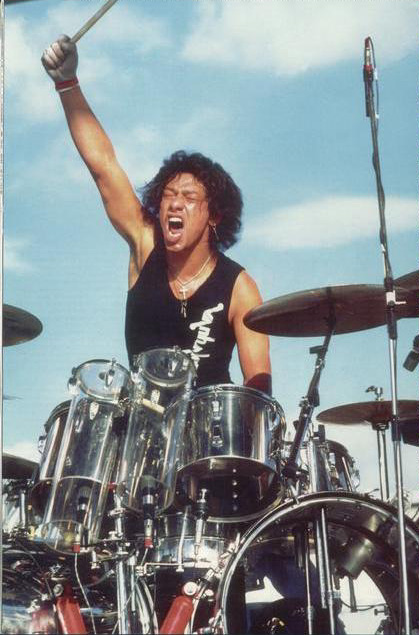 Alex Van Halen
- I was seriously influenced by this man when I was in Jr. High. Alex always came up with the best fills, had awesome sounding drums, especially the snare, and is probably one of the most criminally overlooked rock drummers in history.
Billy Cobham
- He is without a doubt one of the greatest drummers to ever walk the earth. He is the man who set the standard for fusion drumming. His mind boggling speed and power is augmented by his understanding of complex time, ability to play just about any style needed for the song, everything from searing be bop as well as all latin styles, rock and progressive. He's the one guy who can use a 26 piece drum kit and use ALL of it in a single fill! His football player physic makes him probably the most powerful and intense jazz drummer of all time, but also can play with amazing finesse and a fine touch.  His influence on me is immeasurable.
Phil Collins
- Few non-drummers realize how amazingly good of a drummer Phil Collins is. The master of the Concert Toms, his huge drum sound is permanently etched in the consciousness of just about everybody on earth having played the most memorable drum fill in history with "In The Air Tonight" His work in Genesis was monumental, yet few people know of the Fusion band "Brand X" that Phil played in. The album Unorthodox Behavior shows that Phil could hang right up there with the best of them. Phil's phrasing of beats and fills make his drum parts almost songs in themselves. Whether most drummers realize it or not, chances are they have stolen more than a few Phil Collins fills.
Damon Che
- This man re-invented drumming. Everything about the way Damon plays is different than just about anybody. He sets up his snare in a way that nobody in their right mind would ever do, uses a beat up old 1980s Pearl Export, likes cheap B8 Sabian Cymbals, plays with the butt ends of gigantic tree trunk marching sticks, yet still makes everything he does sound amazing. I saw Damon play when I was about 18 years old, and that changed drumming forever for me. I'd never seen anybody play like that. He is insanely busy, but has an amazing, flowing feel and the looseness of a jazz player. Damon can push his drumming to such an extreme level that when you are listening to him play, you think he's going to spontaneously combust. Just when your jaw is on the floor from the barrage of tom and cymbal crashes, he steps it up to an even crazier level of bombardment.  Don Caballero II has some of the best and intense drumming ever recorded in my opinion.
Tony Williams
- Of course I would have to put Tony WIlliams on this list. He without a doubt was the master of finesse and had the best sounding ride cymbal in jazz. Tony Williams started playing with Miles Davis at a very young age and like most greats, changed the way people though of Jazz drumming. He seemed to possess an unbreakable meteor that allowed him to dance wildly around the beat with true freedom but never loose the groove. He had a dark drum sound that was uniquely signature and fit so well with the late 60s Miles.
Bill Stevenson
- The man behind the drums and much of the song writing for punk legends The Descendants, and ALL as well as Black Flag and later with The Lemonheads. Bill Stevenson was a HUGE influence on my playing early on, and Allroy's Revenge continues to be one of my all time favorite drumming records. In my opinion Stevenson is the best punk drummer to ever live, and the most creative and original as well. He is the only drummer to have truly stylized punk drumming. Most other drummers just play fast, or play metal beats, but Bill made it a sound.  
Check out this cool interview with Bill about his love of Jazz and Ornette Coleman!
Jack DeJohnette - 
This man continues to inspire me on nearly a daily basis. He has been amazingly active for the past 5 decades, has an enormous body of work, and was the right channel drummer on Bitches Brew. His drumming in the early Miles Davis electric period was, and still is a huge influence on my playing, not to mention incredible playing with Chic Corea, Jaco Pastorius, Pat Metheny, Ornette Coleman, and many many more. He replaced Tony Williams when Williams left Miles, and has some similarities to Tony with the never-dropping meteor, but definitely has his own unique sound. He excels in intense free-form drumming that dangles far on the outer edges or rhythm. His sound is unmistakable and can range from very minimal delicacies to all out bashing and extreme avantgarde. An accomplished multi-instrumentalist and solo artist, he is still consistently releasing great music. No doubt Jack DeJohnette is a huge influence to me, not only as a drummer, but also as a composer and amazingly prolific musician.